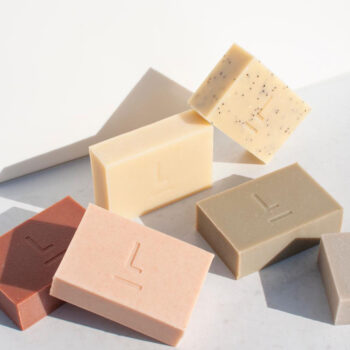 Since launching in 2020, we've loved hearing from you about how you've simplified your routine to incorporate bar soap and are loving it. For so long bar soap got a bad rap - it's outdated reputation as drying, heavily perfumed and harsh is light years away from the gentle, moisture rich, skin loving ingredients of modern soap bars that will leave your skin feeling fresh and clean.

Note: All of our soaps are created using the traditional cold process method of soap making and using a combination of 6 plant butters and oils as their base

French Red Clay

Ideal for all skin types

French red clay receives its striking colour from the high concentration of iron and magnesium, which increases its strength of removing toxins, pollutants and other impurities from the skin. It also helps to regenerate skin tissue, helping to heal acne scars, working hand in hand with geranium to reduce inflammation and balance both dry and oily skin.

French Green Clay

Ideal for oily to normal skin

One of our best selling all round soaps.  Chock-full of minerals and nutrients, this French Green Clay bar works hard to draw daily dirt build-up and impurities from deep within pores, leaving both your face and body clean, smooth and soft. The bar also features a blend of lavender and patchouli to balance oil levels while giving a calming, soothing fragrance.

Honey + Poppyseed

Ideal for all skin types

We use raw honey for its fantastic antimicrobial and antioxidant properties. It helps to kill bacteria that may cause acne and will help skin heal faster. Honey also helps the skin to retain moisture and prevent dryness. A naturally fragranced honey soap with an uplifting essential oil blend of petitgrain, orange and patchouli, and ground poppyseeds to give a gentle exfoliation.

Bamboo Activated Charcoal

Ideal for oily/combination skin

We only use bamboo charcoal in our soap. It's more porous than other types of activated charcoal and this means that it increases our soap absorption capacity and effectiveness to draw out impurities. Tree Tea Tree and Lemon essential oils aid in detoxification and toning of the skin. It's a powerful combination but still gentle enough to be used every day.

Bamboo Powder

Ideal for all skin types

This soap looks understated but packs a punch.  Gentle grains of fine bamboo polish the skin while absorption properties of kaolin clay get to work. Subtle but calming, anti inflammatory essential oil blend with a hint of fennel. This is fast becoming the go-to bar for face and body.

Pink Clay

Ideal for dry or sensitive skin.

Pretty as a picture, sensual and soothing. Our Pink Clay soap is rich in minerals such as iron and magnesium which are famously utilised for their oil absorbent properties. This bar works to gently cleanse and calm skin while the essential oil blend of clary sage and lavender soothes the senses.